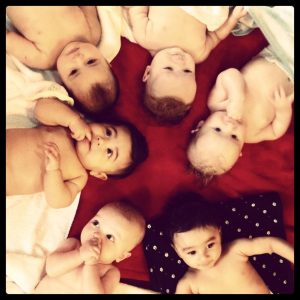 Congratulations on the birth of your baby or babies
The 'hands on babies' course has achieved accreditation by the Royal College of Midwives (RCM)
The course is held once a week for 4 weeks. Each session takes around 45 to 90 minutes depending on how much fun we are having and how the babies respond.
I show you how to massage your baby on a demonstration doll to enable you to copy the techniques on your baby. At the end of each class, you will be given handouts and notes with diagrams of that weeks' lesson. These techniques, once learnt, can be used on your child from infant to adulthood.
The Baby Massage sessions are all about you and baby.
Be comfortable – so wear something loose
Bring a towel or blanket that smells of home
Keep your nails short and smooth
Bring something to tie your hair back
If required I have techniques for colic, teething, constipation and sleep.
The benefits to mum and baby are many:
Touch plays a vital part in baby's well-being. It has been scientifically proven that touch is one of the most important factors responsible for social and mental development.
Touch works in many ways and here are a few examples:
Massage stimulates the production of oxytocin which is a hormone responsible for feelings of contentment and pain relief.
Massage lowers stress and can help your baby sleep more deeply
Massage can reduce crying
Massage stimulates the immune system
Massage can improve digestion
Massage can effect balance and coordination
The key benefits are listed below:
For baby:
Promotes bonding and attachment
Promotes body-mind-spirit connection
Increases self esteem
Increases sense of love, acceptance, respect and trust
Enhances communication
Improves body awareness
Improves relaxation and release of accumulated stress
Stimulates circulation
Strengthens digestive, circulatory and gastrointestinal systems, which can lead to weight gain
Reduces discomfort from teething, congestion, gas, colic and emotional stress
Improves muscle tone co-ordination
Increases elimination, circulation and respiration
Improves sleep patterns
Increases hormonal function
For parent giving massage:
Improves ability to read cues
Improves synchrony between caregiver and infant
Promotes bonding
Increases confidence in parenting
Increases communication both verbal and non verbal
Improves relaxation
Provides time to share and quality time
Improves sense of well being
Reduces blood pressure
Reduces stress
Improves overall health
In conclusion, Baby Massage has many positive benefits that could reduce the amount of GP visits, reduce the risk of Post Natal Depression and give parents confidence and knowledge.
Niki Cotsen
07956 388 748